Cole World: The Sideline Story Album Review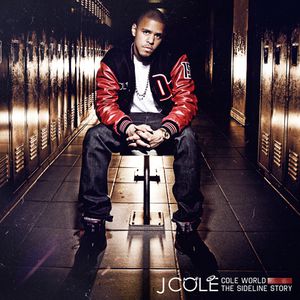 Before J. Cole, I prayed for a honest emcee that could revive hip hop and bring it back to its golden days. I longed for a artis that actually cared about his craft and brought something new to the table. I guess god answered my prayers.
Cole World: The sideline story is one of the most creative yet lyrical albums I've seen since Nas's Illmatic. He took on most of the project by himself. He produced 12 of the 16 tracks on the album and had only 4 guest apperences. For a album in 2011, thats great! He really showed his producing skills on the album, giving us a sound that we rarely hear in mainstream hip hop. For example, he used a live orchestra.
One of the songs that really stand out to me is "Lost Ones". He really tells a story that you can relate to. When is the last time you said that about a mainstream artist? In the song he talks about how he dosn't want to walk out on the woman he got pregnant. He and his fictional girlfriend are arguing over having an abortion and J. Cole's friends are downing him saying that he got trapped by this girl. Real life stuff right there.
Other songs that should get honorable mentions are "Cant Get Enough (feat. Trey Songz)", "Sideline Story", and "Gods Gift". He paints you a vivid picture that makes you want to figuratively turn the pages.
A few things that I didn't particularly care for on the really comes from the guest artist on the album. Jay-Z isn't even trying anymore! Its just sad how inconsistant he has gotton. Those sudden pauses when he actually gets to a playful and witty line is just annnoying. Plus for most of his verse he didn't even rhyme.
" I got a Hublot I call it Tebow
I strap that bitch with a gator band
Yall niggas ball halftime yall niggas like the gator band
Yall niggas need a timeout, who got these niggas all wind up
Cocksucka I'm 7:30, yall niggas know where I'm gon wind up"
Saying the same word or phrase over and over again is not rhyming. I could go on and on through his verse and point out even more lines where his lines don't connect but for the sake of time, I'll let it ride.
Another guest artist on the album, Missy Elliot, is so unimportant in the song "Nobody's Perfect" that I didn't even know she was on the song until I took notes for this album review. She sings the hook for the song, which is pretty much her saying "Nobody's Perfect" for about 30 seconds. Drake was pretty good in his apperence and Trey was better than what we regularly hear. I'm very proud of the young artists but come on! Jay Z and Missy Elliot need to put up or hang it up.
Bottom line, Cole World: The Sideline Story is an album I recomend to any fan of hip hop. This album gives you a old school feel with new school swag and appeal. Out of 10, I give this album a 9/10. Jay-Z and Missy Elliot bring the rating down a point. Sorry!
Look out tomorrow for my review of the BET Hip Hop Awards 2011 and check out my radio show on Talkshoe.
http://www.talkshoe.com/talkshoe/web/talkCast.jsp?masterId=112958&cmd=tc