Soulja Boy, you are not gangsta!!!!!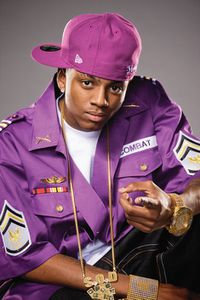 Really Soulja? This guy right here got arrested this morning for possesion of a large ammount of weed and gun possesion with 4 other individuals in Temple, Georgia. He popped onto the hip hop landscape when he came out with the dance song "Crank That" and has followed up with other very popular singles such as "Kiss Me Through the Phone" and "Pretty Boy Swagg". His ringtone have had over one million downloads in the past 4 years and he's selling weed. Why are you even on the steets Deandre??
You wern't gangsta to begin with!! Being tatooed everywhere on your body dosn't get you respect on your block. Anybody can walk around with weed and a gun. In these days its easy to get both of those. I can go outside right now and find some dealer slangin'. Times are rough but definately not for Soulja Boy, who bought a $4 million dollar private jet back in July. Lets not play Soulja Boy. Pretty Boys don't do well in jail.............