Police reports say that Gucci Mane is still in prison (Picture below!!)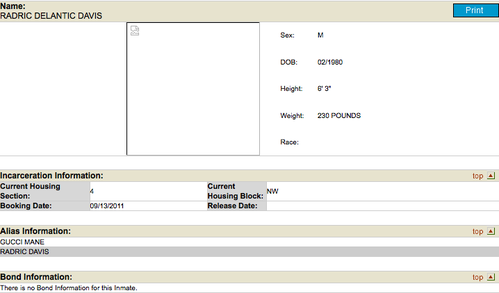 I believe Waka Flocka Flame is a pathological liar. First, he lied about retireing from the game because he didn't like the actions of people involved with it, only to team up with Suge Knight to further destroy his image. Now, he's lied to the hip hop community and given Gucci fans a false sense of hope. According to this police report, Radric Delantic Davis (a.k.a Gucci Mane) is still in the pen. I said in my last post that there was something fishy about the what Waka was saying. I pointed out his prior arrest and he has one hell of a file on him.
Is Waka using his friend to get back in the news again? I mean lets think about it. First the false retirement news, then the Suge Knight saga, now this. And the latter 2 have happened in only 2 days. He's coming off like a big attention whore right about now.
Check out my radio show where I'll talk about th whole situation