Nikki Manaj "Pink Friday" review
Nikki Manaj really has come up these past 2 years. You cant turn around without seeing her on your T.V. or hearing her vaguely odd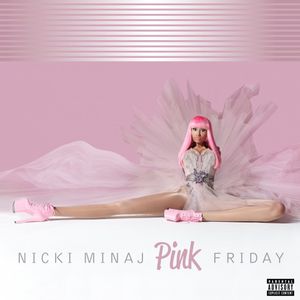 voiceon the radio. She's pretty much the only female rapper doing it in the mainstream today. I mean, you still have your underground artist like Jean Grae that would lyricly kill her but because of her curvy body and edisentric personality she's gotton a push that even other male artist haven't seen. Around this time last year, like how Tha Carter lll was back in 2008, she was everywhere. When I first heard her verse on Bedrock with the rest of the Young Money crew I thought she was shallow, unoriginal, and only relied on her big, presuably fake ass to get her fans to pay attention. Actually I still think that she uses that ass to her advantage but she has shown me a little bit of talent and originality that has me looking at her in a differant light. Unfortunately, this CD didn't start the rise.
The Album starts off with Roman's Revenge featuring the first big guest on the album Eminem. In this song, she's taking shots at Lil' Kim for saying that Nikki stole her swagg. The Queen Bee has a point, but the reason she said that was just to get back into the spotlight. It's really ironic how that conferentation happened around the release of the album. Why was Keys even in it? This is just another publisity stunt and this is another reason why I think beef in the hip hop and rap game is pretty much dead.
"Did it on 'em" is the worst song on the album. My god, that song is horrible!! That dead, broken beat and her elementary school lyrics killed that song for me.
"All these bitches is my sons, and I'ma go and get some bibs for 'em
A couple of formulas, little pretty libs on 'em
If I had a dick, I would pull it out and piss on 'em"
We're gonna get that lazy Nikki? That line and that stupid repetative chorus killed the song for me.
Another song that really stood out to me was "Check it out" Featuring Will.I.Am. When I first heard the song, I couldv'e sworn that Will.I.Am was the main artist. Nikki really had one bar and thats it. Personally, I didn't like the song but that chorus is catchy. Thats one thing Will.I.Am has always been good at. Maybe he should stick to that because his little sing/rapping thing isn't really working out all that well.
To me, the best songs on the album are "Your Love" and "Moment for life" featuring Drake. In "Your Love" at least her rhyme scheme was consistant and she wasn't changing her voice every 5 seconds. Ladies and gentleman, this is what happens when Nikki actually tries. The same thing can be said in "Moment for Life", She was killing that verse and the beat was hot. Drake did his thing but he really couldv'e done better. "Right Thru Me" was an ok song but it was nowhere near comparable to the 2 songs I just highlited.
Overall, this album is a solid 5 out of 10. In many of the tracks, she relied to heavliy on her gimicks. The rest of the songs (other than Super Bass, which I've tried to forget) are just forgettable. Do better next time Nikki. You have the talent but you have to put in the effort.
Listen to my audio review and other topics on the latest episode of "The JSmoove Show" on Spreaker.