Lil Wayne "Tha Carter lV" album review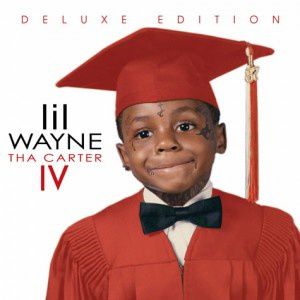 YMCMB! That's what everybody saying on the streets. It seems as if thats the new record label thats running things in this business. Earlier this week, I reviewed Drake's first album "Thank Me Later". I've desided to keep the theme going with Lil Wayne's latest LP "Tha Carter lV" and I may review Nikki Manaj's "Pink Friday".
The first thing I would like to point out is the album's sales. Between his two big album releases, alot of fans have dropped off it seems
Tha Carter lll: 3.6 million albums sold worldwide
Tha Carter lV: 1,586,000 albums sold worldwide.
And here's another stat that I really found insane. Nikki Manaj sold more albums than him!
Pink Friday: 1,588,000 sold worldwide
Tha Carter lV: 1,586,000 sold worldwide
I know his album only came out two months ago and Nikki's lead is slim. but around this time in 2008 "Tha Carter lll" was everywhere. Lets not forget that in its first week that it sold 1,005,545 units in the U.S. What's the cause of the big drop off? Is it the fact that we are deeper in the resession then we were in the Summer of 2008 or is Lil Wayne slipping?
Looking at the musical aspect of this album, it was an alright album. Lil Wayne did more to showcase the guest on the album, which was a star studded line-up of stars from the past and present. Nas, Andre 3000, Tech N9ne, Rick Ross, Busta Rhymes, T-Pain, Bun B, John Legend, Jada Kiss, Drake and Bruno Mars. Thats for only 18 songs, not to mention that Drake did 2 cuts and the interlude and outro didn't feture him at all. Honestly, those two songs were amoung the best on the album. I don't care what anybody says, but Nas killed it!! Tech N9ne showed everybody what was up as well but Nas had the best verse on the album!!
I don't know if its just the fact that I've heard "John" so much that I just can't stand it or if its the fact that he blatently stole from Rick Ross's Telfa Don intro "I'm not a Star". I know Rozay let him use it, but couldn't he have just made another song? Wouldn't that have been easier? Lil Wayne's verse wasn't even that good. I've heard Lil Wayne rip apart a beat like that but it appears that he has the little Jay-Z syndrome going on. He's not going to try because he feels that because his name is plastered on the cover that he'll automaticly get sales. Obviously looking at the numbers, that didn't work.
When I hear "How to Love", I can just picture Drake singing it. Why is Lil Wayne even trying to sing. He's a rapper. Stick to rapping!!! It sounded like he was high as hell when he sung it, especially towards the end. How he was humming at the begining. Thats sorta odd...........
If I had to point out my favorite album on the CD, minus the Interlude and the Outro, I'd have to say 6'7''. Corey Gunz is a beast! He and Lil Wayne make a great tandum. I expected that to win some awards, but of course Lil Wayne's best work goes unnoted.
The last song that really stood out to me is "It's Good" featuring Jadakiss and Drake. The fact that Lil Wayne was taking shots at Jay-Z was amusing to me. Especially what he said.
"Talking 'bout Baby money? I got your Baby money. Kidnap your b**** and get that how much you love your lady money"
When that verse went mainstream, rumors were already flying around that Beyonce was pregnet. Really Wayne? You'd kidnap a pregnet woman? We arn't even sure your a real blood. You were walking around with Blue flags when you first came out. Lets keep it real! Another thing that amuses me is the fact that they're in a beef because Jay said that he makes more money than Birdman. WHO CARES?!?! They both got over $50 milliion in the bank. Why are they aruging. Alot of people in the streets will ball off of $10,000 dollars. Has rap gotton that trite?
Overall, "Tha Carter lV" is not one of Lil Wayne's better albums. It has a few catchy songs and hella special apperences but that wasn't enough to propell it to where "Tha Carter lll" was a few years ago. I'll give it a 6.5 out of 10. It wasn't that bad but Wayne definately could've done better. Nikki, I'm coming for you next!
Make sure you read and support my soon to be published story, "The Diary of Aaliyah Anderson" on WattPad!