Drake "Thank Me Later" Album Review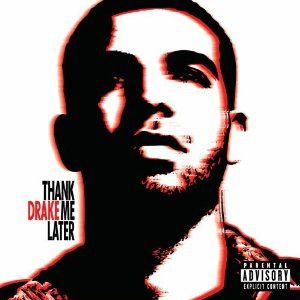 A few weeks ago Drake pushed back his sophmore LP "Take Care, much to the dismay of many of his hardcore fans. Some expect the album to be a flop, others think that the album could exceed potential. But the only question I have is can it exceed the first album?
One thing that the first album had that was both a negative and a positive thing was all of the guest artist. T.I, Jay-Z, Lil Wayne, Nikki Manaj, Swiss Beats, Alicia Keys, Young Jeezy and The Dream dropped a few bars on the album. Its a positive because he's getting alot of good exposure teaming up with known artists but its a burdun because it made him look like he was lazy and too dependent on others to finish his project. Just like what I said with the J. Cole album review, Jay-Z just dosn't try anymore. His lyrics in the song "Light Up" were redundent and didn't link together. Lil Wayne did.......eeh....ok. At least he was talking about something other than his normal topics. Nikki was plain horrible. I've seen her at least be above average .It's been the same with her ever since she's gotton with YMCMB. T.I couldv'e done better. His flow was tight though. Jeezy did his thing. Alicia Keys part was too little in the song "Fireworks". She didn't even get the hook. Drake did that on his own.
I really like the songs where he sings. "Karaoke","The Resistance", "Shut it down", "Cece's interlude" and "Find your love" are some of the better on the album. I know he uses autotune and ever since 2007 we've had it rammed down our throat but he uses it to convay emotion. The problem with T-Pain is that he sounds like a robot when he does his songs. For some reason, Drake's voice dosn't sound like that when he puts the effect on it. I've said this on my radio show multiple times, Kanye is a great producer. One of the notibles in this generation. "Show Me A Good Time" has to the most unique on the album.
Speaking of producers, his go to producer is 40. He produced most of the emotional heartfelt songs on the album. Many people compare that duo to Timberland and Aaliyah. That's not too farfetched. As far as a musical connection, that is pretty comparable. Another example of 40's work is the leaked single from this summer "Marvin's Room". He's very talented, someone you shouldn't sleep on.
Overall, I give this album a 7 out of 10. It didn't live up to the hype, I feel. It was still a good album considering the other albums that came out around this time but he really could've done better. Since it seems that he put more work and thought into his upcoming album, "Take Care" really intrigues me. November 15 people!! Let's hope dosn't let us down
Listen to my show,