Chris Paul to the Lakers? The NBA Owners Disagree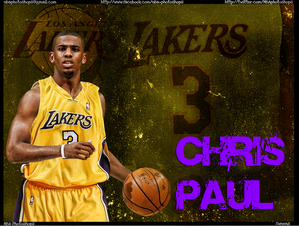 `
It was inevitible for this new era to come upon the NBA. The era of ubseen greed and instant gratification. Actually it seems as if this era has made it's way to the world we live in as well. Nowdays, we have computers to do jobs we are just too lazy to do. But hard work, dedication, and time still prove as a winning recipe in basketball and the game we call life. The Dallas Mavericks gave smaller market owners the hope that they so desprately needed last summer going into the 149 day lockout. The Mavericks beat a team with two sure fire hall of famers and a All-NBA Power foward that is multi-versitle and driven to suceed. It showed that a TEAM can still win. Even after the Lebron James saga that was really spun out of control by his boneheaded, selfish ESPN Special entitiled "The Decision", we still have players trying to team up and create super teams, the latest being Chris Paul.
Chris has had a intrest in leaving New Orleans since the summer of 2010. Around that time, many teams were making trade proposals and clearing roster space to aquire him. Paul saw Carmelo bully his way out of Denver and it seems as if he wants to do the same thing. Chris would love to end up in New York, but there's a distinct possibility that it won't happen. So his next best bet is LA. The Hornets, Rockets, and the Lakers worked out a multi player deal that wouldv'e sent Paul to the Lakers, Gasol to the Rockets, and Lamar Odom to the Hornets with Kevin Martain. It seems as if in that deal the better pieces would've went to the Hornets and the trade of Gasol to the Rockets would've left a huge hole in their front line. Yeah, that could be one reason for David Stern and the NBA to shoot down that trade. But, I think it goes way deeper than that.
Last year, the NBA bought the Hornets from former owners George Shinn and Gary Chouest for around $300 million. That means that the 29 other owners and David Stern vote on what they want to do with the franchise. I think that they didn't allow the trade for money reasons and the fact that they wanted to prevent another super-team from forming. They don't want another Lebron situation to happen. That was one of the things hat drove the bargening agreement in the wrong way. They attempted to change the economic system to discorage teams from getting 3 and 4 all stars on their payroll. Since they control the operations of the Hornets, they also control Chris Paul's short term future until he's a free agent next summer.
Will Chris Paul get traded? We really don't know. The other owners definately dont want him to join up with Kobe in LA, which is a huge market. We also have to realize that they may not coexist together. Paul needs the ball and Kobe does too. I would love for him to get traded to the Knicks or maybe a borderline team like the 76ers. Those are two teams that desprately need point guards with his talent. You can't tell me with that young core of stars that Paul wouldn't immediately make Philidelphia better. All I know is that I'm happy that the NBA is back and in full swing.
You want free electronics and name brand clothes? Join Points2Shop and get free amazon rewards for just completing surveys.
http://www.points2shop.com/us/2022/Points2Shop-by-JSmoove?ref=TheJSmooveShow